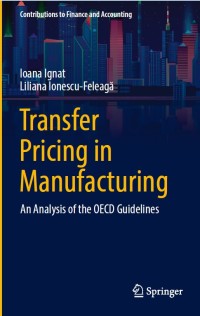 Book
Transfer Pricing in Manufacturing: An Analysis of the OECD Guidelines
---
Transfer pricing is considered a new and complex concept in terms of guidelines and regulations. In this context, more and more academics and tax professionals are interested in understanding the mechanism of a transfer pricing analysis. The main objective of the book is to help them in this process by presenting in a practical approach (using case studies and schemes) and in accordance with the OECD Transfer Pricing Guidelines for Multinational Enterprises and Tax Administrations the way in which are operating the basic transfer pricing elements.

Moreover, considering that the manufacturing sector is the chief wealth-producing sector of the global economy, the book illustrates complete transfer pricing analyses applicable for manufacturing transactions (using Orbis database).

In the end, the book presents some recent disputes between manufacturing entities and tax authorities in relation to the transfer pricing analysis for manufacturing transactions.
---
Detail Information
Call Number

23 TRA ioa

Publisher

Springer

:

Switzerland

.,

2022

Collation

xi, 188p.; 25.5cm

Language

English

Classification

23 TRA ioa

ISBN/ISSN

978-3-030-93889-5

Edition

-

Subject(s)