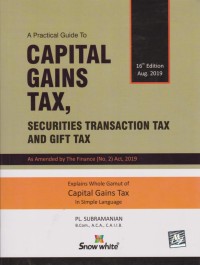 Book
A Practical Guide to Capital Gains Tax, Securities Transaction Tax and Gift Tax - Sixth Edition 2019
---
The 16th Edition of the book on 'A Practical Guide to Capital Gains Tax, Securities Transaction Tax and Gift Tax'. This book received very good response from the readers.

The purpose of writing the book is to present the complicated subject of Capital Gains Tax in simple language.has brought a sea change in the realm of Capital Gains Taxation. Shares, Derivatives and Equity Oriented Units are liable to Securities Transaction Tax.

Securities Transaction Tax has been kept very low in order to encourage the public to invest in equity shares, which in turn will help faster growth of manufacturing and service industry.

This will ultimately result in employment generation and growth in GDP. Fortunately subsequent Finance Acts including the Finance Act, 2019 have not changed this new structure.

---
Detail Information
Call Number

03 PRA pls

Publisher

Snow White

:

India

.,

2019

Collation

(56), 703 p, 24 cm

Language

English

Classification

03 PRA pls

ISBN/ISSN

9789350393574

Edition

Sixth Edition 2019

Subject(s)