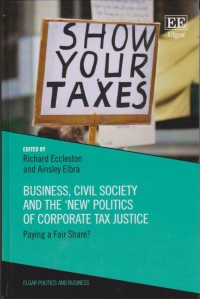 Book
Business, Civil Society and the 'New' Politics of Corporate Tax Justice: Paying a Fair Share?
---
This book's eminent editors and contributing authors provide an accessible and engaging account of the 'new' politics of corporate taxation, highlighting the complex and multidimensional strategies used by activists to influence public opinion, formal regulation and corporate behaviour. While campaigning is successful at exposing tax avoidance, it presents significant governance challenges. As this book reveals, the battle to establish fair and sustainable corporate tax regimes has only just begun.
Chapters offer readers a timely assessment of the emerging role of new tax justice NGOs, the media and whistleblowers, as well as new governance strategies and policies targeting multinational corporations. Through the lens of political science, the authors show how civil society organisations shape the agenda of tax practices of the world's largest and most powerful corporations, including examples such as Apple and Google. A detailed evaluation is given of new private governance initiatives in the international tax arena and their relationship with traditional forms of regulation.

Looking closely at the wider significance of the debate in contemporary global governance, academics and graduates in the fields of international political economy, global governance, development studies and taxation will find this book a timely and thought-provoking read.
---
Detail Information
Call Number

45 BUS ric

Publisher

Edward Elgar Publishing Limited

:

United States of America

.,

2018

Collation

xiii, 318 p, 24 cm

Language

English

Classification

45 BUS ric

ISBN/ISSN

978-1788114967

Edition

-

Subject(s)