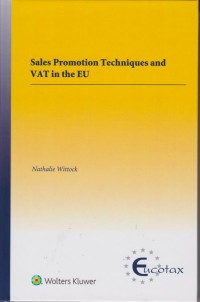 Book
Sales Promotion Techniques and VAT in the EU
---
With nuanced precision, the author catalogs the SPTs that are commonly used in practice. Then, revealing serious inconsistencies among the relevant rulings of the European Court of Justice, she goes on to propose specific amendments to the VAT Directive. Focusing on the importance for VAT of determining the presence of an SPT, she thoroughly analyzes such aspects of the VAT–SPT relationship as the following:


• What are the key considerations for effectively determining whether the supply of a benefit upon fulfillment of a certain condition by a customer constitutes an SPT or a barter?
• To what extent are the VAT consequences of the use of SPTs compliant with the principle of neutrality?
• What distinguishes the VAT treatment of an SPT whereby a sales promotor both finances and supplies a benefit from that of an SPT whereby a sales promotor finances but does not himself supply a benefit?
• What legislative changes can be made in order to reach a more ideal and clear VAT treatment of SPTs in the EU? Not only considering the principle of neutrality but also the other key features and principles of EU VAT.


The research is conducted mainly through a review of European legislation, policy documents, and CJEU case law and the Belgian interpretation thereof. Where room is left for different interpretations, some viewpoints of EU VAT in the Netherlands, and the United Kingdom, as well as in the corresponding system of New Zealand, are considered.


---
Detail Information
Call Number

04 SAL nat

Publisher

Kluwer law international

:

The Netherlands

.,

2019

Collation

xxi, 349 p; 24, 9 cm

Language

English

Classification

04 SAL nat

ISBN/ISSN

9789403508610

Edition

-

Subject(s)