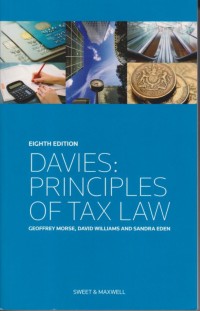 Book
Davies: Principles of Tax Law 8th ed
---
Davies: Principles of Tax Law is an accessible and straightforward guide to the UK tax system. Since its first edition in 1980 the work has sought to distil not only the statutory material but also the substantial number of judicial decisions on tax law into an understandable form.

The work focuses on explaining the various principles underlying the five major taxes – income tax, corporation tax, capital gains tax, inheritance tax and VAT – and how they work in practice. Major pieces of legislation and relevant case law are discussed to show how the UK tax system works both in principle and practice, offering an insight into how tax law has developed and is applied.

Davies: Principles of Tax Law continues to demystify the jargon surrounding tax law making it an essential textbook for undergraduates and a source of reference for practitioners requiring a simple guide to the subject.

---
Detail Information
Call Number

12 DAV geo

Publisher

Sweet & Maxwell

:

London

.,

2016

Collation

li, 545p; 21.5cm

Language

English

Classification

12 DAV geo

ISBN/ISSN

9780414037489

Edition

-

Subject(s)