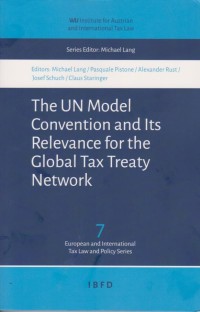 Book
The UN Model Convention and Its Relevance for the Global Tax Treaty Network
---
As almost every income tax treaty is based on precedents found in the OECD or UN Model Convention, the practical relevance of the two Models is undeniable. The Models and the Commentaries thereon serve not only as starting points during treaty negotiations but also as significant aids in interpretation in the sense of articles 31 and 32 of the Vienna Convention on the Law of Treaties. Although the UN Model draws strongly from the OECD Model, it pursues a different aim and deviates substantially in certain provisions.


In its 11 chapters, this book provides a detailed analysis of the deviations between the OECD and UN Models. It examines the provisions included in the Models, as well as their impact and relevance.


The book incorporates the perspectives of leading scholars and practitioners in the field of international taxation. Essential insights are provided for academics, practitioners, tax officials and judges who deal with or are interested in the field of international taxation.

---
Detail Information
Call Number

17 UNM mic

Publisher

IBFD

:

The Netherlands

.,

2017

Collation

xvi, 352 23cm

Language

English

Classification

17 UNM mic

ISBN/ISSN

978-90-8722-425-7

Edition

-

Subject(s)

-