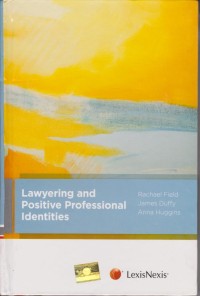 Book
Lawyering and Positive Professional Identities
---
Lawyering and Positive Professional Identities aims to help law students successfully navigate the demands of law studies and legal practice through the development of positive professional legal identities. It does this by focusing on the knowledge, skills and attitudes necessary for law students to be motivated and engaged learners, and psychologically healthy individuals.


The text will fill an important gap for many law schools seeking to enact the threshold learning outcomes for law by addressing these important topics in their curricula. It is a valuable guide for all law students who wish to maximise their success and chances of thriving at law school and beyond.


Positive lawyering knowledge and practice are central themes of this book, with a particular emphasis on lawyers' roles as upholders of the rule of law, as dispute resolvers and as ethical professionals. Throughout, the authors provide practical, experience-based advice on the development of core skills for legal education and practice.

---
Detail Information
Call Number

11 LAW rac

Publisher

LexisNexis

:

India

.,

2014

Collation

xxi, 499 24.5cm

Language

English

Classification

11 LAW rac

ISBN/ISSN

978-93-5035-913-6

Edition

-

Subject(s)