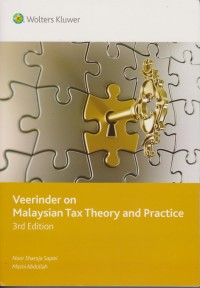 Book
Veerinder on Malaysian Tax Theory and Practice 3rd Edition
---
Veerinder on Malaysian Tax Theory and Practice (3rd Edition) provides a comprehensive coverage of the basic principles of the Malaysian taxation in terms of the technical provisions, Inland Revenue Board and Royal Malaysian Customs Department practices and guidelines, as well as administrative aspects related to the tax system. This book aims to equip readers with a firm grasp of the principles of Malaysian taxation.


This revised and updated third edition includes a new chapter on Indirect Taxation, which details the pertinent aspects of the newly implemented Goods and Services Tax (GST).


The chapters in the book are arranged such that the reader is first given an overview of the Malaysian tax legislation and this is followed by a discussion on the fundamentals of taxation in Malaysia.


The law is stated as at 1 May 2015.

---
Detail Information
Call Number

20 VEE noo

Publisher

Wolters kluwer

:

Kuala lumpur

.,

2017

Collation

xv, 757 25.5cm

Language

English

Classification

20 VEE noo

ISBN/ISSN

978-967-0853-04-8

Edition

3

Subject(s)