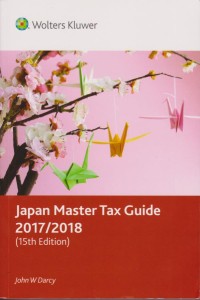 Book
Japan Master Tax Guide 2017/2018 (15th Edition)J
---
The Japan Master Tax Guide 2017/2018 is an informative and practical guide to the framework of Japanese tax law in English. Readers will find the insightful commentary on Japanese tax statutes, regulations and National Tax Agency circulars extremely helpful. Using non-technical language and illustrative examples, flowcharts and exhaustive citations to Japanese laws and regulations, it allows non-Japanese tax practitioners to gain a deeper understanding of the Japanese tax laws.


With references to tax statutes and headings in kanji characters, the guide is also useful to English-speaking Japanese tax practitioners. This book is designed to be used by business and individuals subject to Japanese taxes, and tax professionals who deal with Japanese tax issued with latest changes in tax rates.


The law stated in this edition stands as at 31 March 2017.


---
Detail Information
Call Number

20 JAP joh

Publisher

Wolters kluwer

:

Singapore

.,

2017

Collation

lxxvii, 710 23cm

Language

English

Classification

20 JAP joh

ISBN/ISSN

978-981-4446-62-4

Edition

15

Subject(s)