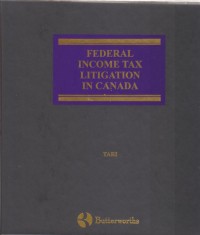 Book
Federal Income Tax Litigation in Canada - Volume 1
---
This easy-to-follow civil litigation guide to representing clients in disputes with Canada Revenue Agency provides an accessible explanation of the appeal and judicial review routes using charts, illustrations, flow-charts and precedents.
The author addresses such issues as:
• Options available when an unfavourable assessment is issued by Canada Revenue Agency
• How to draft, file and serve notices of objection or appeal and other pleadings
• Whether to use the informal or general proceedings
• How to "bump up" from the informal to the general proceeding
• How to extend the statutory deadline for filing a notice of objection or appeal
• How to examine and cross-examine expert and lay witnesses
• What further appeal or judicial review routes are available
• How to appeal to the Federal Court of Appeal
Easy-to-scan charts outline the objection and appeal processes, indicate where to file and even set out the physical layout of the proceeding. Useful forms and precedents accompany many of the chapters.

---
Detail Information
Call Number

28 FED ach 1

Publisher

Lexis nexis

:

Canada

.,

2012

Collation

various page; 25.5cm

Language

English

Classification

28 FED ach 1

ISBN/ISSN

978-0-433-40374-6

Edition

-

Subject(s)