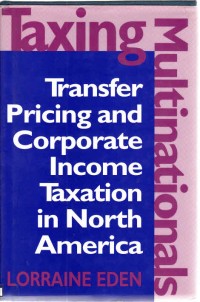 Book
Taxing Multinationals: Transfer Pricing and Corporate Income Taxation in North America
---
Governments face complex problems in taxing crossborder, intrafirm transactions of multinational enterprises. Such transactions dominate world trade flows and critically affect national tax revenues. However, their values - transfer prices - are set typically inside the multinationals. As a result, governments have established complicated rules based on the arm's length standard to discourage transfer price manipulation.

This book draws on the fields of international business, economics, accounting, law, and public policy as they pertain to transfer pricing. It includes a state-of-the-art review of the economic theory of transfer pricing; an international business approach to multinationals and intrafirm trade in North America; complete outlines of the corporate income tax laws and regulations in Canada, the United States, and Mexico as they apply to transfer pricing; a thorough discussion of the roles of the U.S. Treasury and the OECD in developing the arm's length standard; summaries of key transfer pricing court cases; samples of accounting practices and problems; and a critical look at the current tax issues and public policy proposals in regard to taxing multinationals in the twenty-first century.

Taxing Multinationals should be of interest to practitioners, researchers, and policy makers who deal with multinational enterprises, international taxation, and intrafirm transactions.

---
Detail Information
Call Number

24 TAX lor

Publisher

University of toronto press

:

Toronto

.,

1998

Collation

xv, 757 p.; 24 cm.

Language

English

Classification

24 TAX lor

ISBN/ISSN

0-8020-0776-7

Edition

-

Subject(s)