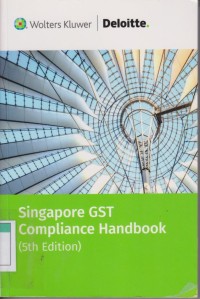 Book
Singapore GST Compliance Handbook (5th Edition)
---
The Singapore GST Compliance Handbook (5th Edition) is a handy reference guide on GST compliance issues. Now in its fifth edition, it continues to be an essential guide for finance and accounting professionals and GST administrators.

It helps readers to understand fundamental GST concepts, learn about the approaches and the underlying basis for compiling GST returns, and how to avoid common pitfalls in complying with GST. Besides systematically explaining the principles, the book also covers GST schemes that are available for companies.

The law in this book stands as at 1 November 2016.

---
Detail Information
Call Number

04 SIN ric

Publisher

CCH Asia Pte Limited

:

Singapore

.,

2016

Collation

xxii, 449p; 23 cm

Language

English

Classification

04 SIN ric

ISBN/ISSN

978-981-4446-38-9

Edition

5th

Subject(s)