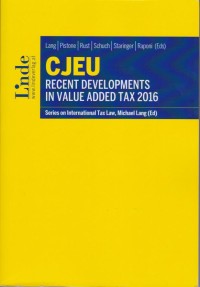 Book
CJEU - Recent Developments in Value Added Tax 2016
---
The most important and recent Judgments of the CJEU

Considering the ever Increasing importance of indirect taxation as a source of revenue for Governments, the intensifying complexity of legal framework, and the proliferating number of countries Adopting indirect taxation, it is essential to scrutinize how the law is actually applied in practice. The primary driving force in this area is undoubtedly, the Court of Justice of the European Union.

This book analyzes selected topics (eg, abuse and anti-avoidance measures, taxable base and rates, treatment of public bodies, exemptions, and deductions) by examining the most prominent and recent judgments of the Court of Justice of the European Union. Experts from all over the world, not just from academia, but also from the government and the taxpayer.

---
Detail Information
Call Number

04 CJE mic

Publisher

Linde Verlag

:

Wien

.,

2017

Collation

xiv, 356 22.5cm

Language

English

Classification

04 CJE mic

ISBN/ISSN

978-3-7073-3698-6

Edition

-

Subject(s)