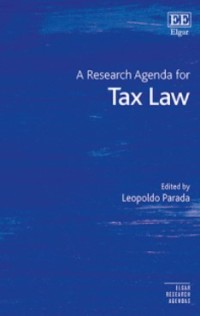 Book
A Research Agenda for Tax Law
---
This Research Agenda considers the future direction of research in tax law, channeling creative thinking from leading tax scholars around the world who explore potential routes for further development in both traditional and more unconventional areas of tax law.

Showcasing visionary and provocative thoughts from leading international tax scholars, each chapter follows a clear methodological structure, setting each specific topic in context before identifying research gaps indicating potential avenues for future research. These developments are discussed in relation to tax law's interaction with a myriad of cutting-edge topics such as environmental challenges, new technologies, racial and immigration issues. The expert authors astutely draw out the social implications of tax law in order to present a case for developing a more global and interconnected approach to contemporary research ventures.

A Research Agenda for Tax Law will provide guidance and inspiration for future researchers, doctoral students and scholars in the field of tax law and fiscal policy who wish to dive into some deeper, and perhaps unknown, waters of taxation.
---
Detail Information
Call Number

12 RES leo

Publisher

Edward elgar publishing

:

United kingdom

.,

2022

Collation

xi, 220p.; 24cm

Language

English

Classification

12 RES leo

ISBN/ISSN

9781800885837

Edition

-

Subject(s)