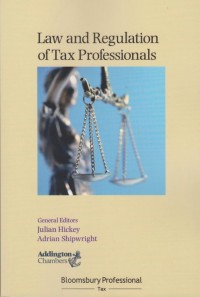 Book
Law and Regulation of Tax Professionals
---
Law and Regulation of Tax Professionals examines all aspects of the obligations and liabilities of tax advisers arising out of professional standards, contract, tort, tax legislation (including DOTAS, POTAS and DAC6) and criminal tax evasion sanctions against the backdrop of legislative and case law.

The purpose of this book is to provide a comprehensive overview of the law and associated matters concerning the regulation of tax professionals; and to seek to draw some practical lessons as to how the tax professional and the business they work in can organise themselves to comply with what is required by regulation, best practice and to eliminate so far as possible the consequences of mistakes and unforeseen occurrences.

Illustrated throughout with examples and reference to relevant case law, as well as checklists to help the reader put measures in place to protect themselves against the risk of becoming involved in breach of regulatory standards, this title is essential for tax professionals (including ICAEWs, CTAs, TEPs), tax agents, in house tax advisers, and lawyers advising on tax matters.
---
Detail Information
Call Number

00 LAW jul

Publisher

Bloomsbury Professional

:

Dublin

.,

2021

Collation

lii, 572 p, 23.5 cm

Language

English

Classification

00 LAW jul

ISBN/ISSN

9781526506207

Edition

-

Subject(s)