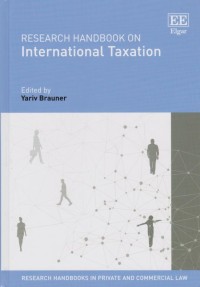 Book
Research Handbook on International Taxation
---
Capturing the core challenges faced by the international tax regime, this timely Research Handbook assesses the impacts of these challenges on a range of stakeholders, evaluating various paths to reform at a time when international tax policy is a topic high on politicians' agendas.

Expert international contributors present an array of perspectives and approaches to research in the field, but all consider the necessity of fundamental reforms. The Research Handbook offers a reappraisal of the foundations and core concepts of the international tax regime, highlighting the need to adjust nineteenth and twentieth century solutions to the challenges of the twenty-first century. Chapters look at the challenges of embracing globalization, the interdependence of world economics, the ensuing impossibility of truly unilateral international tax policy, and the need to accommodate the expanding cast of players on the political map.

With a variety of paths to reform suggested throughout, this Research Handbook will prove an invigorating read for law scholars working on taxation law as well as practitioners and policy makers seeking ways to improve, or navigate, the current state of affairs with international tax law.
---
Detail Information
Call Number

16 RES yar

Publisher

Edward elgar publishing

:

Florida

.,

2020

Collation

xxii, 393 p, 25 cm

Language

English

Classification

16 RES yar

ISBN/ISSN

978 1 78897 536 0

Edition

-

Subject(s)