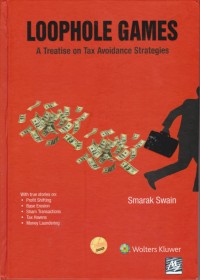 Book
Loophole Games - A Treatise on Tax Avoidance
---
This book reveals loopholes available within ambit of law, used by corporates in legal ways to avoid paying taxes. All abusive tax avoidance structures have been brought together here in a single book. There are infinite clandestine ways of indulging in tax evasion. But tax avoidance has to happen within the constraints of accounting principles and law.

Tax avoidance preys on loopholes available within the ambit of law. Hence, the number of techniques at the disposal of an accountant for avoiding taxes is limited (while techniques for evading tax are infinite).

In this book, author has discussed key rulings of Indian as well as foreign courts, and brought out the modus operandi discussed in major court rulings. He has also discussed the modus operandi of organised syndicates that facilitate tax evasion.

Organised syndicates such as the stock market syndicates, shell company syndicates, and hawaladar networks often facilitate in laundering of black money and their infusion into formal accounts. Business managers and forensic auditors should be aware of how these syndicates perform, so that they can raise red flags on detecting accommodation entries made in accounts on behest of the syndicates. It will help the forensic auditor in looking for trouble areas in accounts of a business concern.

---
Detail Information
Call Number

07 LOO sma

Publisher

Wolters Kluwer India PVt. LTd

:

India

.,

2019

Collation

xviii, 300 p, 24.3 cm

Language

English

Classification

07 LOO sma

ISBN/ISSN

978-9388696364

Edition

-

Subject(s)