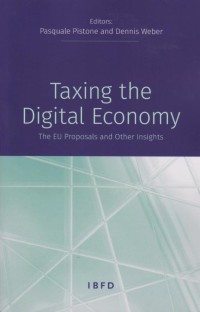 Book
Taxing the Digital Economy
---
As the OECD puts it, the digital economy is increasingly becoming the economy itself. Since this new economy comes with challenges for tax policymakers, the OECD published the consultation document "Addressing the tax challenges of the digitalisation of the economy", which outlines different policy options to address these challenges. In June 2018, the Amsterdam Centre for Tax Law and IBFD hosted a two-day conference, where speakers from all over the world shared their views on these various options for taxing the digital economy.

This book contains the papers written in connection with this conference. It summarizes the insights from the conference and discusses recent policy developments on the taxation of the digital economy. Different aspects of the taxation of the digital economy, from value creation to significant digital presence to the digital services tax, are addressed by renowned academics and distinguished scholars.

In offering insight into all the different aspects of the taxation of the digital economy, this book aims to provide an overview of the (consequences of) various tax policy options to address the digital economy. In particular, it is hoped that it contributes to the discussion on resolving the tax challenges arising from the digitalization of the economy.
---
Detail Information
Call Number

37 TAX pas

Publisher

IBFD

:

The Netherlands

.,

2019

Collation

xvi, 339 p, 23 cm

Language

English

Classification

37 TAX pas

ISBN/ISSN

978-90-8722-558-2

Edition

-

Subject(s)