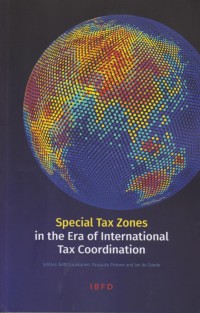 Book
Special Tax Zones in the Era of International Tax Coordination
---
This book contains a comprehensive analysis of special tax zones, addressing their issues from the perspectives of comparative, international and European tax law. It is the result of the work of an IBFD research group, involving academics and practitioners from around the world and covering 15 countries from Europe, North and South America, Africa and Asia.


Special tax zones may present significantly different features, but all share the element of allowing a preferential tax treatment for pursuing genuine regulatory goals. Based on such narrow understanding of special tax zones, the book argues for their clear separation from BEPS-related practices and supports the view that international tax law should limit external interference in tax policies of the countries promoting special tax zones.


After an introduction, which defines the scope of the study and its methodology, the book contains topical studies and country surveys. The final section of the book includes the conclusions and recommendations of the research group.
---
Detail Information
Call Number

33 SPE ant

Publisher

IBFD

:

The Netherlands

.,

2019

Collation

xxii, 573 p, 23 cm

Language

English

Classification

33 SPE ant

ISBN/ISSN

78-90-8722- 549-0

Edition

-

Subject(s)