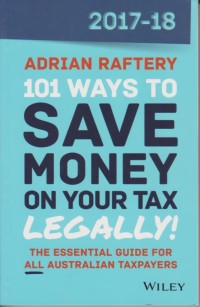 Book
101 Ways to Save Money on Your Tax Legally
---
Mr. Taxman is back to save you even more on your 2017-2018 tax

101 Ways to Save Money on Your Tax — Legally! is the quintessential guide for every Australian taxpayer. Updated annually to keep pace with changing tax laws, this book shows you how to maximise your return and keep more of your hard-earned money. Why pay more than your fair share? This year's edition explains all of the changes to the May 2017 budget, and provides indispensable advice from Mr. Taxman himself! Find answers to your questions and identify every deduction that applies to you; leverage your business, education, family, property, medical expenses, levies, shares and superannuation to receive your maximum return.

This invaluable guide goes beyond tax prep to help you position yourself for an even better return next year! Learn where and how to invest, the traps you should avoid and how you can start planning now so you can owe less the next time around. It's not about "cheating the system" — by clarifying obscure language and complicated rules, this book simply helps you reclaim the money that belongs to you.

• Understand how changes to the tax laws affect you for 2017-2018
• Maximise your deductions and avoid overpayment
• Get organised with tips and advice for your specific situation
• Avoid tax traps, correct errors and get the return you deserve

Taxes are important for a functional society, but the government is only entitled to so much of your money. So many Australians overpay their tax every year — it's time to separate yourself from the crowd. Pay what you owe, but not a cent more, with the clear, expert guidance in 101 Ways to Save Money on Your Tax — Legally!

---
Detail Information
Call Number

20 WAY adr

Publisher

John Wiley & Sons Australia, Ltd

:

Melbourne, Australia

.,

2017

Collation

xvi, 266p 21.5cm

Language

English

Classification

20 WAY adr

ISBN/ISSN

9789730344940

Edition

-

Subject(s)