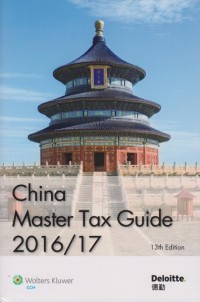 Book
China Master Tax Guide 2016/17 - 13th Edition
---
Wolters Kluwer's China Master Tax Guide 2016/17 lays out the most up-to-date taxation issues of China and is expertly authored and updated by the professionals from Deloitte China.


This book is a consolidated and practical reference that provides comprehensive and up-to-date information and the trend in China Tax. It covers the latest developments and regulations governing the taxation of companies, businesses and individuals in China.


This publication examines all type of taxes imposed in China. It provides guidance for the readers on the different tax scopes and tax laws as well as recent tax issues.

---
Detail Information
Call Number

20 CHI del 2

Publisher

Wolters kluwer

:

Hong Kong

.,

2016

Collation

xxiv, 819 23cm

Language

English

Classification

20 CHI del 2

ISBN/ISSN

978-988-13956-9-6

Edition

13

Subject(s)