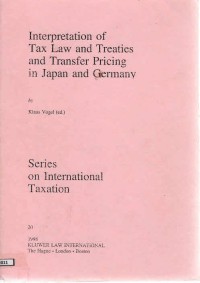 Book
Interpretation of tax law and treaties and transfer pricing in japan and germany
---
Different language structures and multiple potential interpretations have potentially significant importance to the interpretation of tax treaties, usually concluded in two, equally binding, authentic-language versions. Practitioners need an awareness of these differences and their import in order to avoid unexpected exposure and to understand tax treaties.


The expert papers in this collection explore the methods of interpretation of tax statutes and treaties used in Japan and Germany, particularly in light of the wholly different structure of the Japanese language in comparison to European languages. They also present a detailed analysis of issues of international transfer pricing in Germany and Japan, highlighting both important differences and surprising similarities between the two legal systems.


Interpretation of Tax Law and Treaties and Transfer Pricing in Japan and Germany results from a recent conference in Germany in honour of Professor Hiroshi Kaneko, Emeritus Professor of Tokyo State University, where some 60 scholars and practitioners of international tax law from Japan and Germany convened to discuss questions of common interest.


The collection provides an important contribution to the literature in the field of international and comparative taxation. It proves indispensable reading for tax practitioners confronted with interpretation conflicts in Japanese tax treaties or with transfer pricing problems in connection with Japan.


---
Detail Information
Call Number

24 INT kla

Publisher

Kluwer law international

:

Hague

.,

1998

Collation

xvi, 238 p.; 24 cm.

Language

English

Classification

24 INT kla

ISBN/ISSN

90-411-9655-2

Edition

-

Subject(s)